Welcome to Jelitto Perennial Seeds!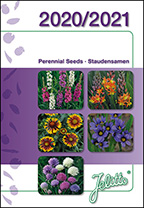 Our company has been supplying high quality seeds to plant growers and nurserymen all over the world since 1957. Our headquarters in Germany and our offices in the US, UK and Japan will assist you wherever possible.
We offer an extensive selection of over 3700 species and varieties.
Please take your time and enjoy browsing through our fascinating range!

---


BREXIT News:

UK customers are welcome to continue ordering from us. Due to the extra paperwork required now, orders are taking up to 2-3 weeks to process and deliver. We assure your of our best service at all times.
Please note: For courier delivery services an EORI number is required. Click here for more information.
Categories
Our recommendation