PRODUCTION - Breeding - Seed Technology
Seed Production: Gypsophila repens 'Rosea'
and Cerastium tom. 'Silberteppich'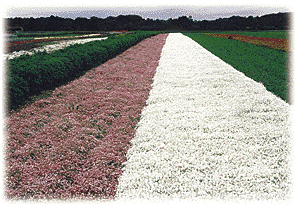 70% of our current perennial assortment comes from our own production, with growers over the entire world in more than 20 countries.
All areas under cultivation are monitored closely and controlled by our qualified personnel for quality. Why are we so committed to our own production in such a large number of countries?
Only in this way can we try to approach the optimum environment for seed production, taking into account the climate for maintaining the typical characteristics of the different varieties and forms. In this way we can release controlled and healthy seed for production: On the one hand, to safeguard future quality of our perennial seeds and, on the other hand, to safeguard delivery capacity by spreading the risk of harvest failures caused by natural environmental influences.
How important is the selection of the production location? There is an interplay between the climate and soil characteristics. For example, the blue poppy Meconopsis betonicifolia, does not grow well in Italy or Kentucky, but does so in Scandinavia. Stokesia laevis does not flourish in Scandinavia but does so in Italy and Kentucky.
We attach great importance to the preservation of the natural variability of botanical varieties by hand harvesting of early, as well as late, maturing seeds. We also produce seed from endangered species under horticultural conditions in order to protect the natural location.
See also: Seed Production: Heuchera americana 'Palace Purple Select'