Latest News and Updates at Jelitto Staudensamen · Perennial Seed · Graines de plantes vivaces
02.02.2017 -

Random Browse

New 'RANDOM-BROWSE' Button in the Shop

JELITTO PERENNIAL SEEDS GmbH has an assortment of
3700 hardy perennials, kitchen herbs and ornamental grasses in stock.

We have added a function on our homepage, that makes it quite easy
to explore the large number of species and varieties.
The RANDOM BROWSE will generate a selection of articles and
it will be without great effort to scroll through the images.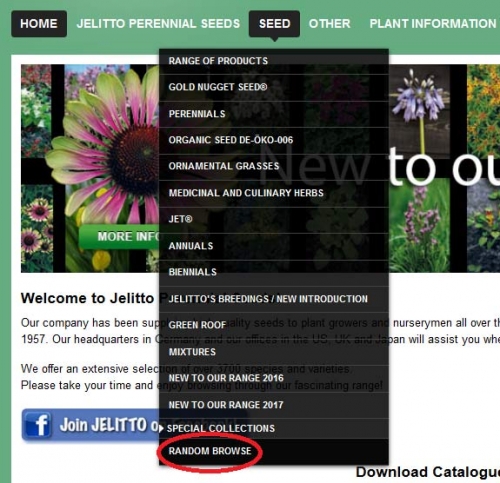 11.01.2017 -

Pantone Color of the Year 2017

Color of the Year 2017.

The Color company Pantone released the 'Color of the Year'. The color of the year 2017 selection is Greenery 15-0343.

Pantone justified this choice with the words:
Greenery is "constant on the periphery, Greenery is now being pulled to the forefront - it is an omnipresent hue around the world."

We are pleased about the choice and the new attention for the green.

Many different shades of green are not only part of ornamental foliage plants. They are also found in the flowers of many grasses and perennials.
17.11.2016 -

Mid-Atlantic Nursery Trade Show
11 - 13 January 2017: Mid-Atlantic Nursery Trade Show, Baltimore, MD, USA
Jelitto Booth # 2419
17.12.2015 -

Gold Nugget Seeds
Quantity Unit changes for Gold Nugget Seeds!

Please order Gold Nugget Seed in number of seeds only. There are no 1000 seed units prepacked! Each order is weighed individually.
You are welcome to order any amount, ie. 700 seeds or 15 200 seeds. Please bear in mind our minimum quantity per item.
Minimum charge per item 2 € net, price will be rounded up accordingly.


11.05.2015 -

Advanced Search

'Advanced Search' improved!


The 'Advanced Search' has been improved. The new button is accesable next to the common search. Check it out!