Latest News and Updates at Jelitto Staudensamen · Perennial Seed · Graines de plantes vivaces
15.12.2017 -

2018 New Introductions
2018 New Introductions from JELITTO PERENNIAL SEEDS
2018 comes with a new catalogue, with 10 new own cultivars and with more than 90 new introductions.
For sure most spetacular is the new HELIOPSIS helianthoides var. scabra 'Bleeding Hearts', colorchanging during summer and without a single hint of yellow.
Nevertheless people admire already the new ECHINACEA seed strain 'Mellow Yellows'. Beautiful spectrum of yellow shades: creamy, lemon and dark yellow, especially suitable as a cut flower.
But you might favor one of the other new JELITTO PERENNIAL SEEDS cultivars.
All 10 new cultivars you may find here:

02.02.2017 -

Random Browse

New 'RANDOM-BROWSE' Button in the Shop

JELITTO PERENNIAL SEEDS GmbH has an assortment of
3700 hardy perennials, kitchen herbs and ornamental grasses in stock.

We have added a function on our homepage, that makes it quite easy
to explore the large number of species and varieties.
The RANDOM BROWSE will generate a selection of articles and
it will be without great effort to scroll through the images.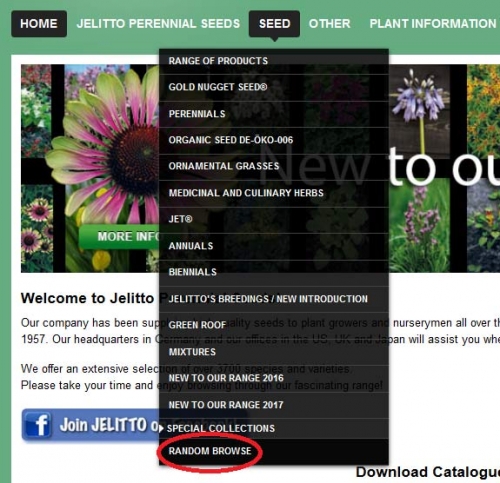 17.11.2016 -

Mid-Atlantic Nursery Trade Show
11 - 13 January 2017: Mid-Atlantic Nursery Trade Show, Baltimore, MD, USA
Jelitto Booth # 2419
17.12.2015 -

Gold Nugget Seeds
Quantity Unit changes for Gold Nugget Seeds!

Please order Gold Nugget Seed in number of seeds only. There are no 1000 seed units prepacked! Each order is weighed individually.
You are welcome to order any amount, ie. 700 seeds or 15 200 seeds. Please bear in mind our minimum quantity per item.
Minimum charge per item 2 € net, price will be rounded up accordingly.


11.05.2015 -

Advanced Search

'Advanced Search' improved!


The 'Advanced Search' has been improved. The new button is accesable next to the common search. Check it out!